From Kylie Jenner selling her stake in cosmetics to Instagram hiding likes, the events that marked the Influencer Marketing Industry in 2019
As the year is coming to an end, we are here to fill you in on some of the influencer marketing headlines you may have missed. From Kylie Jenner selling her stake in cosmetics to Instagram hiding likes, these are just some of the events that marked the industry.
Which headline do you believe has had the biggest impact on the market in the last 12 months?
Influencer Marketing Industry concerned about platforms estimating Social Media data
Along 2019, stakeholders in the influencer marketing industry have taken over Social media to complain about the digital providers that estimate influencer insights and distribute them on the internet.
"This lack of transparency affects every player within the influence marketing sector: brands are making wrong decisions based on estimated data, not real facts, and influencers are being evaluated based on information that is not correct", said Manuel Albuquerque, Co-founder and CEO of Primetag.
The importance of data certification by 3rd parties has come up in conversation now more than ever before in the last months. As Forbes said, "By partnering with agencies that have access to deep-dive influencer data, brands are better suited for optimizing their marketing efforts and driving consistent top-quality customer engagement".
Instagram started hiding likes
Instagram first announced that they would start hiding likes in its annual developer conference, in April 2019. The purpose behind this was to reduce pressure and help users focus on the quality of their content as opposed to their performance. It's important to notice that while the number of likes is not public, the posting user still has access to that information.
Instagram started testing this in Canada and by mid-July, they extended the trial to Brazil, Australia, New Zealand, Ireland, Italy and Japan. The worldwide test reached the Spanish and Portuguese markets in November, with Iberian brands, agencies and agents reporting they were no longer able to see the number of likes on some influencer's post.
With this move, Instagram has made it much harder for digital providers to estimate insights, since only those entities using Instagram-certified platforms will have full access to this key information. Learn more about how this game-changer will affect the influencer marketing industry in "Instagram is Hiding Likes. Don't Panic!".
IG rolling out the Brand Collabs Manager
Heading into the last 2 weeks of the new year, Instagram is launching the Brand Collabs Manager: a platform that will allow influencers to find and manage deals as well as automatically share insights with the businesses they work with.
Since the removal of the Like count, this dashboard will undoubtedly be an essential platform for businesses and influencers to work together and share insights and engagement details to measure the effectiveness of the campaigns.
Essentially, this will make IG the biggest influencer marketing agency in the world.
The three biggest game-changers to come out of this:
Management agencies, the middlemen between businesses and influencers, will be cut out. This will allow influencers to make more money by eliminating agency costs.
Influencers will now be able to share real insights directly with businesses they work with, subsequently reducing influencer fraud and inflated engagement stats.
Management agencies will now have to be more creative with their services and strategies, rather than just acting as talent outsourcing agents.
As an influencer, you can join by adding your portfolio detailing your info, interests, and the type of content you produce.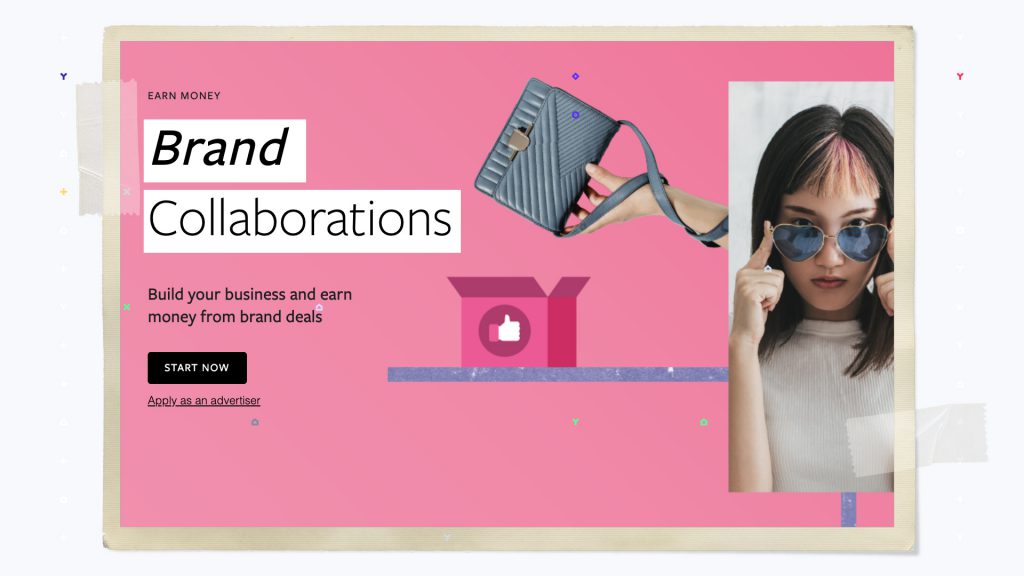 TikTok – and other Chinese Social Networks – taking over the West
As Western social media platforms – such as Facebook and Twitter – struggle to get established in China, Chinese social media companies have stepped up and taken the opportunity to grow beyond borders this year.
The clearest example is the case of TikTok, which has already gathered 500 million active users and has been slowly gaining followers worldwide since it merged with Musical.ly in 2018. As stated by the TIME magazine in May 2019, almost 100 million users have now downloaded the social platform in the United States, and it was the number one non-game download in the U.S. in January.
Kuaishou (or Kwai), with over 700 million users, is also following the path to internationalization, with South America being on top of their priority list. The short-video platform has opened offices in Sao Paulo, Brazil, last November. The first numbers are in, and Kuaishou already features 7 million daily users in Brazil. To learn more about it, check "Kuaishou, the 700 million user social network you never heard of".
Kylie Jenner selling stake in cosmetics company for $600m
Reality TV star Kylie Jenner launched her brand in 2015. In November 2019, Kylie Cosmetics was estimated to be worth $1.2 billion. Coty, the beauty giant that owns brands such as, Max Factor and Hugo Boss, paid $600 million for a 51% stake in the company.
Coty is betting on Jenner's 270 million social media followers to attract a younger audience. In fact, her online influence is so powerful that she reduced Snapchat's stock market value by $1.3bn when she tweeted that she does not use the app anymore.
Analyst Wendy Nicholson highlighted the dependence on Kylie's image as one of the biggest threats: "The biggest risk to this acquisition, is that Kylie loses interest in the beauty business, or that her social media presence and/or popularity fades".
VICE's video on influencers having to pay to grow their social media accounts
VICE's Sally Burtnick gave herself a month of 2019 to create a new Instagram account and become an influencer. The video, which features testimonies from different influencers and market specialists, reaches a bold conclusion: "You need to have money to grow on Instagram these days. You need money to pay for shoutouts, to get featured in other influencer's accounts and stories", as stated by one of the Influencers featured in the video.
With constantly-shifting algorithms and proven evidence in the profitability of social media, many 'influencers' are open to investing thousands of dollars a month to grow their following.
For more insight on 'good, bad and ugly' ways of growing in social media, check out our October article "Increasing followers on Instagram".
Social Media is winning the battle for audience reach
As Millenials and Gen Z become the world's most dominant tech-savvy consumers, these generations have increasingly avoided traditional advertising during 2019 and sought personalized and authentic experiences from brands, such as influencer marketing. To successfully reach and engage with this highly exigent demographic, TikTok, Instagram and Youtube, are the 'must go' platforms.
As Carlos Ramalho, Managing Director of Carat Spain, said at The #RealFollowers event in Madrid, "the reach of a publication by one of the most popular Spanish influencers is 1.7 million young people (18 to 24 years old), in 24 hours". With the purpose of putting things into perspective, it's worth mentioning that "a television advertising campaign should be on air for two and a half weeks to achieve the same reach in that same age group".
Estee Lauder investing 75% of the digital budget on influencers
Last August, global cosmetics company Estée Lauder, which owns up to 30 different brands including Bumble & Bumble, Clinique and Mac, announced that it will be investing 75% of its marketing budget on digital, particularly on social media influencers.
The company has made influencer choices from micro to worldwide celebrities, such as Kendall Jenner and Karlie Kloss who has been the face of the brand since 2018. The beauty company calculated that in 2017 the brand spent $675 million on influencers which they later assured was a complete global success.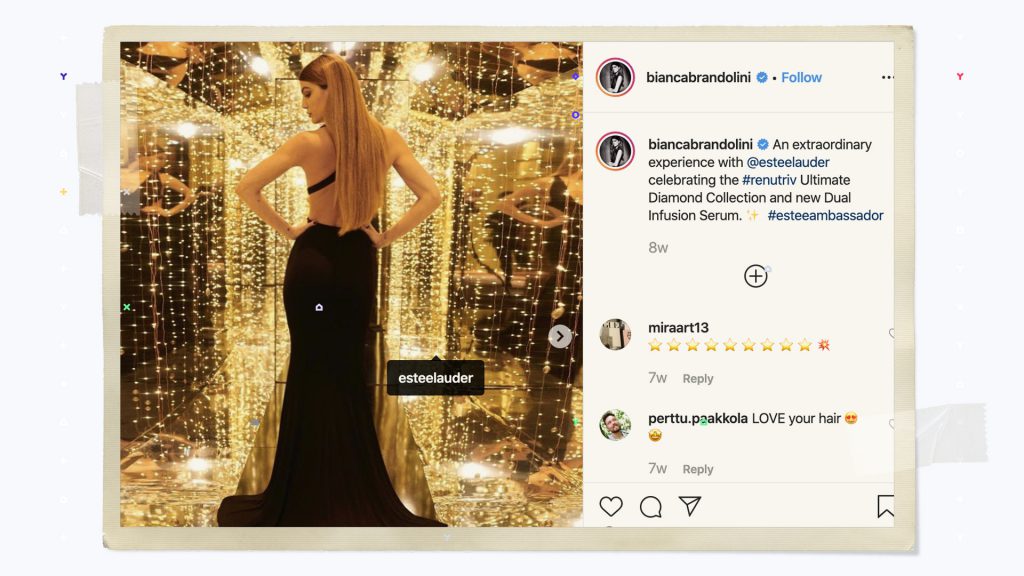 Lush "switching up social" for its UK business
Cosmetic brand Lush decided to stop their social media activity for its UK market in April. The decision highlighted the brand's particular focus on influencer marketing. "You'll start to see the rise of Lush personalities online", said a Lush spokesperson according to INDEPENDENT.
"Increasingly, social media is making it harder and harder for us to talk to each other directly," said the brand via Twitter. "We are tired of fighting with algorithms, and we do not want to pay to appear in your newsfeed". The brand stated that this decision wasn't a replacement for the brand channels but an opportunity for their customers to connect one-on-one.
Carolina Herrera questioning influencers role
In November Carolina Herrera made controversial statements during the Latin American Fashion Summit, held in Cartagena de Indias (Colombia): "I don't understand Influencers, they have no style. They are constantly shifting. They wear whatever they are given. They aren't fashion's style. They're money's style", said the fashion designer.
The first influencer to respond was María Pombo, who defended that "We -influencers- have democratized fashion by bringing it to the streets, through our blogs and Instagram accounts. We have brought the catwalks and trends closer to people who didn't understand nor followed them before".
Aida Domenech, also known as Dulceida, shared: "When talking about 'influencers', people tend to generalize in a way they shouldn't. In my specific case, if a brand asks me to wear something I don't like, no matter what brand we are talking about, I won't wear it".
Social Influence Reports becoming a reference in the Iberian market
At the beginning of 2019, both Spanish and Portuguese Social Influence Reports were launched as a response to the lack of real data on Influencer Marketing. These reports provided an insight into Instagram's most popular content and accounts among the national audiences.
According to the Spanish Social Influence Report, Zara was one the most loved brands by Spanish Influencers on Instagram, followed by Mango and Bershka. Taking into account the location mentions, Paris, London and New York are the most admired international destinations by Spanish Instagramers. The study got coverage on El País, El Mundo and Marie Claire, among other publications.
#RealFollowers events taking over Spain
If we could sum up Primetag's 2019 in one word it would be 'Spain'. July and November were the chosen months for the Primetag crew to join the Influencer Marketing industry leaders in Barcelona and Madrid, respectively. #RealFollowers was the chosen name for this series of events, given after the company manifesto.
Hosted by ESADE's professor Franc Carreras, Dentsu Aegis Network, YouPlanet, Soy Olivia and other Primetag partners addressed the need for urgent professionalization in the Spanish influencer marketing industry.
Carlos Ramalho, Managing Director of Carat Spain and KeyNote Speaker at #RealFollowers Madrid, announced that the expected total investment in Influencer Marketing for 2019 would reach 100M € (three times more than 2018).
Among the main challenges for 2020, Ramalho mentioned the need for a data-backed tool to better monitor, evaluate, and audit influencers as a way to avoid fraud and overpricing as well as to promote transparency.