Instagram is one of the most vital channels for promotion and sales within the marketing industry. In recent years, the palpable shift from personal to entrepreneurial use has allowed for many business ventures as brands and influencers continue to collaborate. Now more than ever, Spanish companies need access to legitimate and reliable information provided by experts in the digital sector.
The Social Influence Report Spain 2018 has been produced as a response to the lack of real data on influencer marketing. This report provides an insight into Instagram's most popular contents and accounts among the Spanish audience. 
Primetag has analysed 6.221 Spanish influencer profiles and 1.3 million posts. These insights into social media assist brands and agencies with their influencer marketing endeavours.
A closer look at the Spanish Influence Report:
Fashion – Zara is the most loved brand by Spanish Influencers on Instagram, followed by Mango and Bershka.
Music, cinema and TV – Netflix and Operación Triunfo, generate new public figures on Instagram.
Travel – Paris, London and New York are the most admired international destinations by Spanish Instagramers.
Fashion & Beauty
Manu Ríos, an international model and social influencer, has the largest number of followers (4.6M) on Instagram, with Dulceida (2.6M) and Paula Echevarría ranking behind him (2.5M). Whilst, he is third in the engagement bracket (11.2%) he continues to be one of the most influential people within the fashion sector working with brands, such as Bershka and Calvin Klein.
Jessica Goicoechea (1.9M) ranks first for the biggest number of views on her video which features an emotional young fan meeting the model.
Zara is the most tagged and mentioned fashion brand by spanish influencers (30k mentions), followed by Mango (8.3k) and Bershka (7.8k). Out of the 30 most mentioned brands by Spanish influencers, 26 of them belong to the Fashion or Cosmetic industries with five of them being Inditex companies.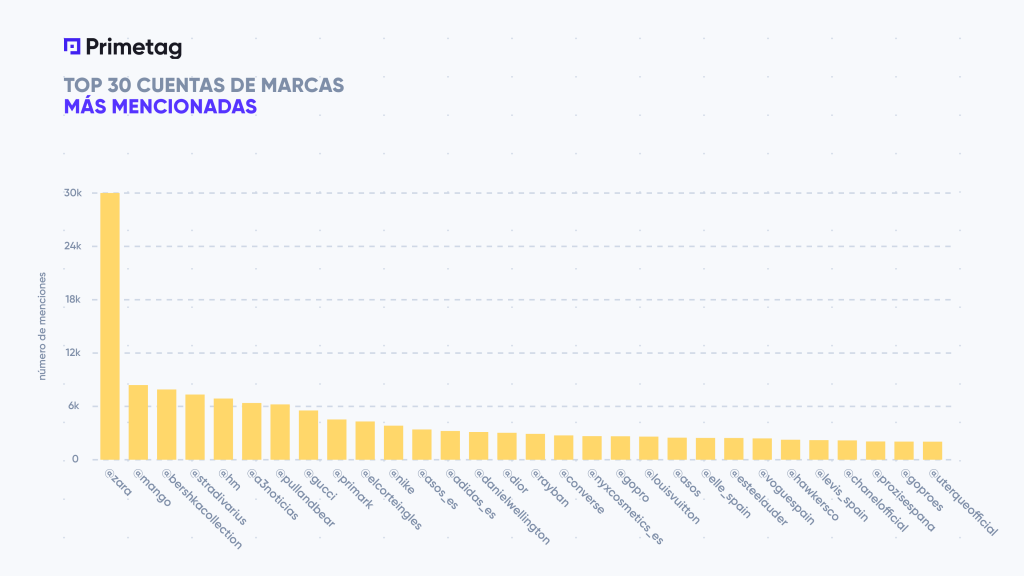 Music, cinema and TV
In the music, cinema and TV sector, studies show that figures who have recently emerged on Netflix series, such as La Casa de Papel and Élite, have gained remarkable recognition on Instagram: Úrsula Corberó (6.4M), Jaime López (5.1M) and Miguel Herrán (4.4M). In fact, within a year these figures have managed to surpass the popularity of Penélope Cruz (4M) in relation to Instagram followers.
Leading the engagement list with the highest number of interactions from their fans, is the new generation of Operación Triunfo, with Luis Cepeda (23,2%), Agoney (19,3%) and Aitana (19,1%).
Travel
The most admired international destinations by Spanish influencers include cities, such as Paris, London and New York.
The most popular Spanish cities on Instagram are, Madrid, Barcelona and Valencia.
Regarding influencers in the travel sector, Nicanor García, a Barcelona-basedphotographer, has the highest number of followers (738k). Meanwhile, Gotzon Mantuliz and his dog Noa have the highest number of interactions.
Gastronomy
Instagram foodies, such as Miquel Antoja, have recently taken over the platform with their strikingly delicious content. More notably, his sponge cakes and chocolate wafers have gained a staggering 4.7 million views.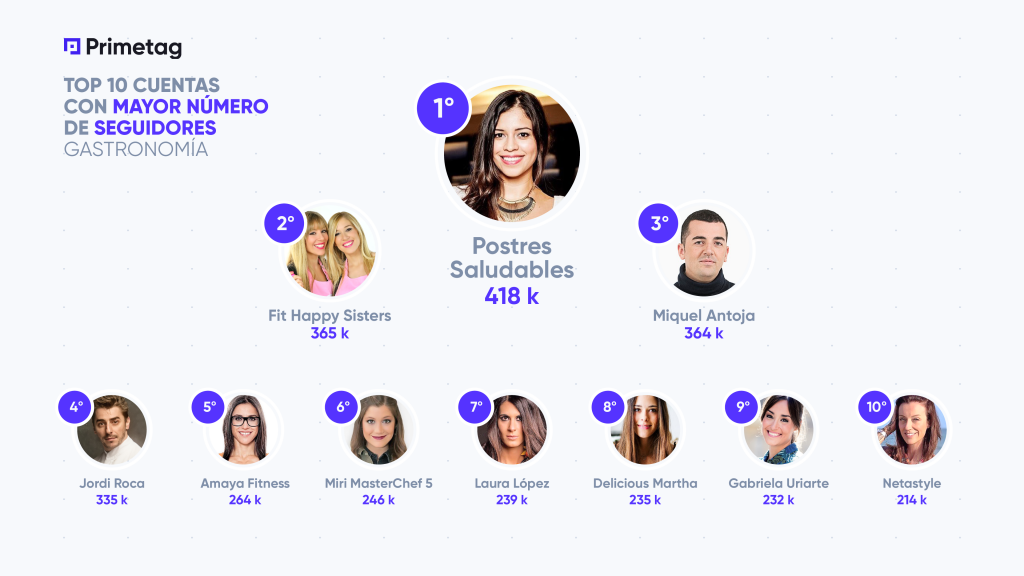 What to expect from gastronomy in the upcoming years?
With global plans to improve the speed of climate change, veganism is becoming the new go-to diet. Therefore, we believe that vegan based foodies, such as, 'midietavegana' will start to have a greater impact on Instagram with their compelling tips for a more sustainable diet.
Generally, healthy and nutritious foods are becoming more commonplace on Instagram with the growing rate of obesity. Therefore, we believe that accounts such as, 'carlosríos' will soon be one of the top ranking on Instagram with content that encourages a healthier lifestyle.
Sports & Fitness
Football monopolises the Sports & Fitness category on Instagram with the following players:
Toni Alarcón (8,5%), a Spanish triathlete, ranks first in the engagement sector, followed by the finalist of 'Ninja Warrior' Jota Mowly (8,4%), and the athlete Ana Peleteiro (8,3%).
The World of Football
Overall, the study of the Spanish Social Influence Report 2018 shows that football players are the most followed accounts on Instagram in Spain. Their popularity on Instagram inevitably ranks the Sports & Fitness category first among other categories. This love for football is also shared by the neighbouring country Portugal as seen in the Portuguese Social Influence Report 2018.