Instagram is one of the most vital channels for promotion and sales within the marketing industry. In recent years, the palpable shift from personal to entrepreneurial use has allowed for many business ventures, as brands and influencers continue to collaborate. Now more than ever, Portuguese companies need access to legitimate and reliable information provided by experts in the digital sector.
Primetag has produced the Social Influence Report Portugal 2018 as a response to the lack of real data on influencer marketing. This report provides an insight into Instagram's most popular contents and accounts among the Portuguese audience.
Our technology has analyzed 1.682 Portuguese influencer profiles, more than 354 thousand posts and 2.710 million interactions. These insights into social media assist brands and agencies with their influencer marketing endeavours.
A closer look at the Portuguese Influence report:
Sports and Fitness – Ronaldo has the highest number of Instagram followers, with Pepe and Ricardo Quaresma ranking behind him.
Arts and Entertainment – Rock in Rio tops the 'Summer Festivals' category.
Sports and Fitness
The CR7 planet monopolises Instagram in Portugal and generally around the world. In fact, Cristiano Ronaldo (184M) is responsible for more than a half of all interactions in Portugal. This comes as no surprise as he is one of the most influential footballers in the digital industry.
Whilst Ronaldo has the most Instagram followers, Pepe and Ricardo Quaresma are ranked second and third in the list of top followed accounts.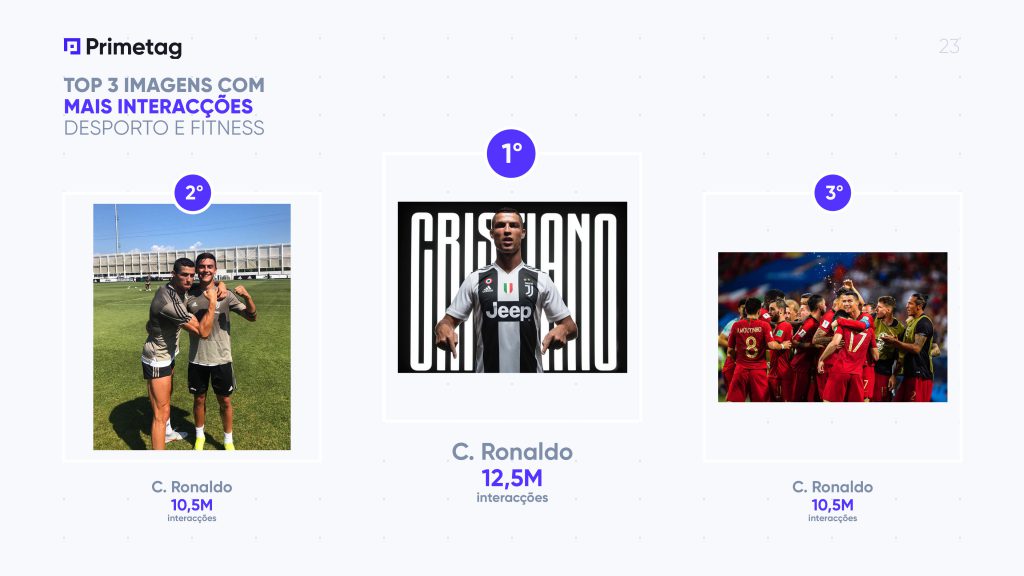 Although sports and, more precisely, football dominates this category it is also worth acknowledging the impact fitness has had on Instagram. For example, "Real couple real food" (12,6%) are ranked first in the engagement bracket with their fitness tips and healthy meal options. Portugal's football star, Manuel Fernandes (12,4%) ranks second for the highest number of engagement, followed by the upcoming professional Jota (11,1%).
Ultimately, the Sports and Fitness category is predominantly made up of masculine athletes with the exceptions of "Real couple real food" and the female footballer, Rita Fontemanha.
The top three most mentioned brands by portuguese influencers in the Sports & Fitness category are:
Prozis, an internet-based Portuguese company that is active in the sports nutrition retail sector.
The Portugal national football team, which has represented Portugal in international men's football competition since 1921.
Adidas Originals, a line of casual sports clothing.
Fashion & Beauty
International model Sara Sampaio has the greatest number of followers in the Fashion & Beauty sector. On top of this, she also has the most interactions on her photos and videos. Vanessa Martins and Liliana Filipa are also in the top three most followed accounts in Portugal. English and Portuguese influencer Alice Trewinnard ranks first in engagement (140,2%).
Zara is the most mentioned brand by portuguese influencers (5.3k mentions), followed by Mango (2.2k) and H&M (2.1k). In contrast to Spain, Portugal has no masculine figures among the Fashion & Beauty sector.
Arts and Entertainment
Figures at the forefront of traditional media, such as TV, music and cinema have recently found a place in new digital platforms, such as, Instagram and Youtube. However, it is worth acknowledging that many were also born inside these entertainment channels and are now as equally influential as traditional media figures. Therefore, the Art and Entertainment category was divided into two sub-categories: music, TV & cinema, and digital entertainment. Leading these categories are Rita Pereira and SirKazzio, respectively.
In addition, an analysis of the most mentioned music festivals by portuguese influencers showed that Rock in Rio ranked first, followed by NOS Alive and MEO Sudoeste.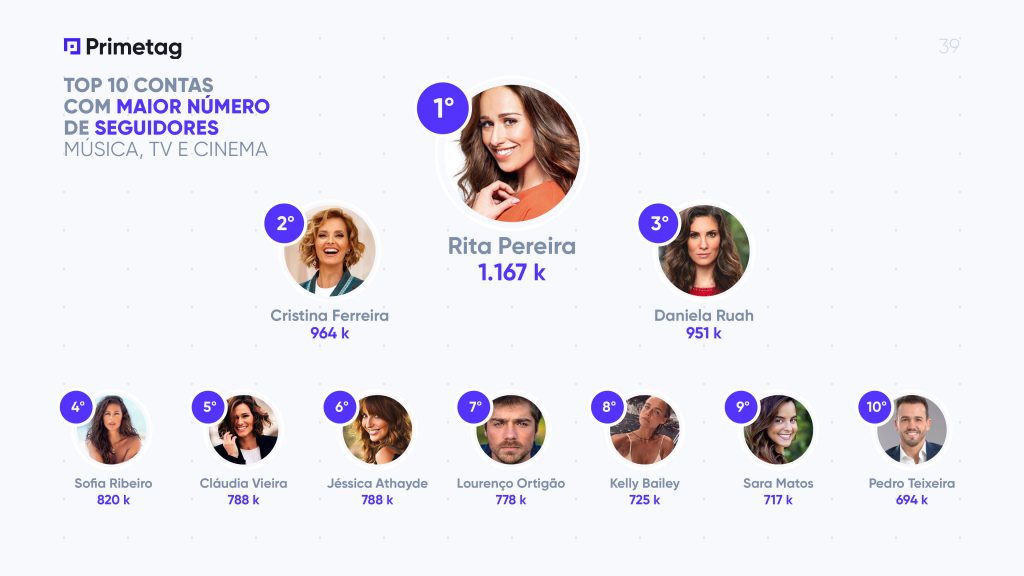 Travel
For many people Instagram has become a place where they can post and keep track of their travel destinations. Indeed this is the case for João Cajuda who monopolises the Travel category. With his exceptional photo and video quality, the portuguese are able to witness the most exotic destinations around the world at the comfort of their sofa.
The most preferred international destinations by portuguese influencers are Paris, Madrid and London, followed by Barcelona and Amsterdam. Alternatively, Lisbon, Porto and Cascais are the most popular local areas.
Brands, such as Turismo de Portugal, Tap and Condé Nast Traveler are most favoured by Portuguese influencers in the Travel sector.
Gastronomy
Gastronomy has recently come to dominate instagram's feed with remarkable food photos. Marco Costa, Instagram's popular foodie, has been ranked first for the highest number of followers whilst 'Coco e Baunilha' tops the engagement category.
'Casal mistério' is the second highest followed account on Instagram in the Gastronomy section. Whilst their identity remains hidden, they continue to have the highest number of views in Portugal.
Iswari, Sumol and Origens Bio are the the most tagged food brands by influencers.
A Football Loving Nation
Overall, the study of the Portuguese Social Influence report has shown that categories such as Sports and Fitness and more precisely Football include some of the most followed people in Portugal on Instagram. This love for football is also shared by the neighboring country Spain as seen in the Social Influence Report Spain 2018.