After our successful Spain launch event in Barcelona, Primetag once again brought together leaders and experts to provide valuable insight and discuss the status of influencer marketing for Spain in 2019 and beyond.
Primetag, along with experts from CARAT, YouPlanet and more, hosted our highly anticipated #RealFollowers event in Madrid at ESPACIO CÓMO. Brands, agencies, agents and influencers networked and engaged with the industry's leading marketing experts. Hosted by ESADE's professor Franc Carreras, it was a full afternoon of learning, insights and innovations. Find below a recap of the key take-aways from the event.
#RealFollowers kicked off with keynote speaker Carlos Ramalho, Managing Director of CARAT, who spoke on milestones, challenges, and key numbers for the influencer marketing business in Spain. He announced that the expected total investment in Influencer Marketing for 2019 would reach 100M € (three times more than 2018). Also, in 2018, a total of 37M € were invested in influencer marketing. The expected total investment in Influencer Marketing for 2019 would reach 100M € .
The expected total investment in Influencer Marketing for 2019 would reach 100M € "

Carlos Ramalho, Managing Director of CARAT.
He stated: "Today, Influencers in Spain are showing a level of professionalism never seen before. They have out-grown themselves and have become far more sophisticated in their work". Among the main challenges, Ramalho mentioned the need for a data-backed tool to better monitor, evaluate, and audit influencers as a way to avoid fraud and overpricing as well as to promote transparency.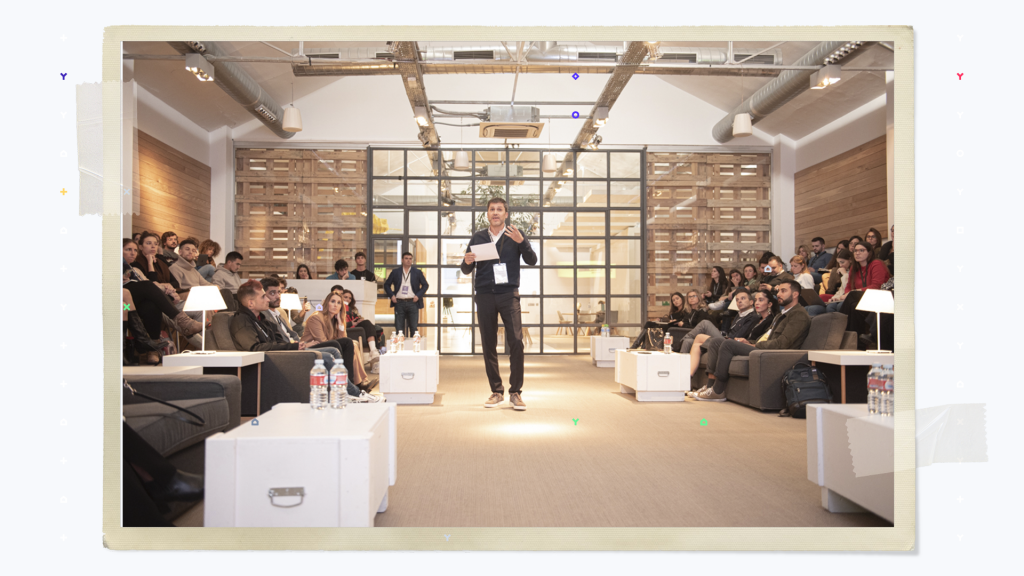 While Ramalho focused on the "why", our other speakers illustrated the "how." Our main stage presentations covered topics such as the professionalization of influencer marketing, influencer pricing, brand collaborations and activations, influencer auditing, and campaign launches with speakers from You Planet, Soy Olivia, Agatha Paris, StoryLab and MultiOpticas.
Toni Mostazo, Business Director at YouPlanet, also provided us with several examples on the power of brand collaborations as well as the current level of professionalism shown by Spanish influencers. Take a look at @hiclavero's collab with Volvo, @soylogang's collab with Samsung, and of course, Spain's famous football fanatic and influencer, @Xdelantero09X (2M+ Youtube subscribers), and his journey from Youtuber to content creator for several brands.
We heard about the growth journey of these three influencers by the hand of YouPlanet, the leading Youtube agency in Spain. The conversation went from small collaborations to sophisticated worldwide campaigns with set deadlines, events, launches, and more. Toni also reminded us of the growing need to have a platform to monitor and evaluate these collaborations accurately based on real numbers.
Many brands are making decisions based on estimated numbers, not real ones, and the influencers, consequently, are being wrongly evaluated".

Manuel Albuquerque, CEO and Co founder of Primetag
Next, Primetag's CEO, Manuel Albuquerque, and Head of Business Development, Patricia Onofre, spoke about how to obtain and monitor the real ROI on influencer marketing. Albuquerque mentioned the lack of transparency in this growing business: "Today we have data providers who estimate influencer metrics and then publish them, to monetize them at the expense of brands. So many brands are making decisions based on estimated numbers, not real ones, and the influencers, consequently, are being wrongly evaluated".
Then Onofre provided us with Primetag's solution to this problem: "What makes us unique? We are a platform that focuses on the evaluation, measurement, and optimization backed by real data. Based on real content and account insights. Unlike others which use estimation".
After networking over a coffee break, Jone Conde, Primetag's PR & Media specialist, introduced the 2020 Influencer Marketing Leaderboard. This free social media marketing tool provides access to the rankings of both influencers and brands nationwide. Soon after, our guests witnessed two dynamic panels. One focused on improving influencer collaborations, scaling profitably, driving conversions, and the other on influencer and campaign evaluation and measurement.
First, we heard from the collaboration between Daniela Rodríguez of Soy Olivia and Marta de Castro, Director of Agatha Paris. A partnership that resulted in the multi-million audiences of María Pombo and Grace Villarreal. Rodriguez gave the audience a taste on how she approaches collaborations:
The industry has a tendency to value the work of celebrities but undervalue the work of influencers. They are professionals who work hard and have huge potential for advertising campaigns. For Influencers, it's not just about money; it is about a long-term relationship and investment"

Daniela Rodríguez, Co-Founder of Soy Olivia
Our second panel welcomed back Toni Moztazo and @Xdelantero09X together with José Félix Arranz, Country Manager for StoryLab and Aurora Iglesias, Influencer Coordinator for MultiOpticas. Both the influencer and the experts shared their experiences and decision-making process when choosing collaborations. Arranz highlighted the impact of Primetag on his work with influencers: "Working with Primetag, we now realize the impact of relevant and real data and how it's taking this market to another level. i.e., the power of follower segmentation and overlap".
WHAT'S NEXT
Both of our #RealFollowers events were a success, with experts, agencies, brands, and influencers all eager to learn from each other and educate one another. Of course, these two events were just a taste of what you'll be able to expect from Primetag and the #RealFollowers movement in 2020. Get ready to bring transparency and authenticity to the hearts of brands and the fingertips of users all around the world through data-backed influencer marketing.
Do you want to know our secret? What makes us real influencers, with real impact and genuine power?
Real followers follow us.
Find below our previous blog posts that provide an insight into the most trending topics within social media and influncer marketing.
#RealFollowers event in Barcelona: influence marketing leaders join Primetag in Spain
Instagram is Hiding Likes. Don't Panic!
Increasing followers on Instagram — The Good, The Bad and The Ugly