Inditex. What is it? Where did it come from? And why do I need to know about it? Now, if this name doesn't ring a bell with you, then this should jog your memory. Zara, Pull&Bear, Massimo Dutti, Bershka, Stradivarius, Oysho, Zara Home and Uterqüe. Ding ding ding.
These brands are making their parent company, Spanish conglomerate Inditex, one of the biggest fashion retailers in the world. In just the first 9 months of 2019 last year, Inditex Group made €19.82 billion in net sales (an increase of 7.5%). And the company had big ambitions for the following year.
Although this is impressive, Inditex, like pretty much all companies on this planet, has had its fair share of hardship this year ever since the start of the COVID-19 pandemic. The global crisis has meant that the retail giant has made losses, for the first time ever in its history. According to ABC, "the textile group had, from February to April, a negative net profit of 409 million euros".
This was largely due to the unprecedented drop in sales, as a result of physical stores having to be temporarily closed. This meant that only 965 of their 7,412 Inditex stores were operating in Spain alone. As you can imagine, the parent company and its brands had to step up their marketing game in order to keep customers shopping, especially from their online channels. Cue the influencer marketing quest for unhampered success.
So What is Going on?
Inditex is killing it in terms of their online presence and transparency with customers
Stradivarius hosted a super successful live stream with the 25-million-followers- mega-influencer that is Danna Paola
Oysho took advantage of the new stay-at-home regime and created its unique loungewear collection, accompanied by the viral hashtag #whenimathome
Unless you have been living under a rock this past year, then you will know about how Zara is consistently one of the most mentioned brands on Instagram in 3 major European countries.
Let's get Down to Business
In light of the pandemic fashion retailers around the world are having to rethink their plans for the year ahead. Many companies are prioritising marketing and communication over merchandising, and Inditex is no different. The company is focusing on two things right now: its connection with customers and its transparency with them.
This period of disruption and uncertainty means that customers may become disconnected with the companies they shop with. Therefore, it's crucial now more than ever that companies stay engaged with their customers and get creative in these connections.
On the 23rd of March this year, Stradivarius kicked off their social media marketing efforts by conducting a #musictostayhome live stream. This stream featured famous singer, actress and influencer Danna Paola, from the popular Netflix TV show ELITE. Who – by the way – has a jaw-dropping 25 million Instagram followers. No big deal.
This was a winning umbrella for the company, who has been stuck in a rainstorm of losses this year. But they haven't stopped there, following soon after, Oysho, another Inditex brand, launched it's "when I'm at home" collection of loungewear. Accompanied by the hashtag #whenimathome, which already has almost 1000 Instagram posts.
But let's be real, this was all child's play. Let's talk about one of the biggest of Inditex's brands – Zara. This trendy clothing giant has consistently been one of the most mentioned brands by not one, not two, but three major European country's influencers on Instagram.
According to Primetag's revolutionary leaderboard, Zara was the most, or one of the most, mentioned brands on Instagram in Spain, Portugal and the UK. The brand was mentioned 1256 times by 770 influencers from the UK (in a period of just a few months), 4856 times by 463 influencers from Portugal (in the span of the year 2019) and an impressive 17,305 times by 1382 influencers from Spain (also in the span of the year 2019). And who knows how many more markets they are dominating the 'mention' charts of.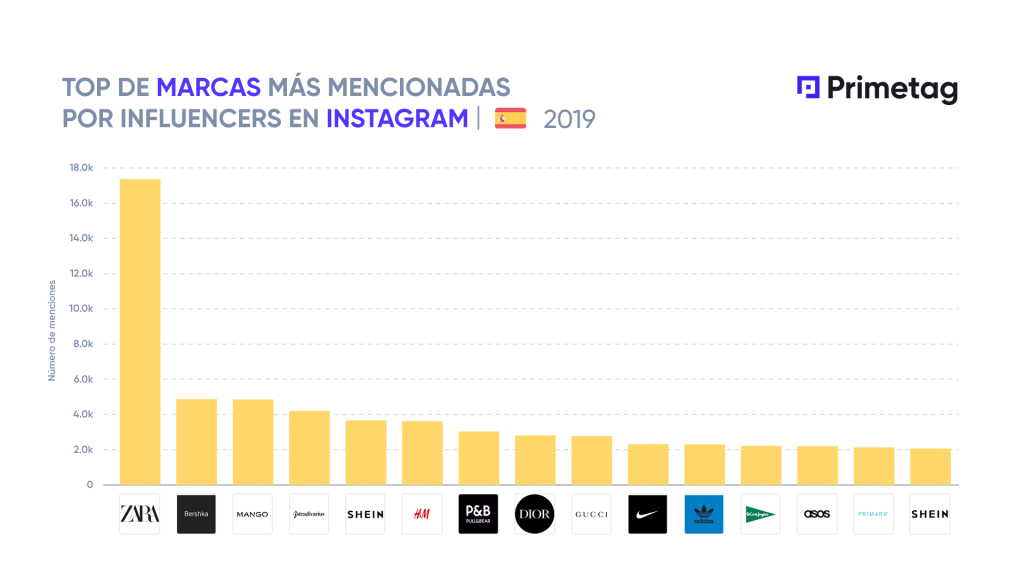 Want to see the rest of this leaderboard and others? Check it out here.
The Influencers
Ok, so we have talked about the brands, now what about the influencers? Well, first of all, it's important to note how big of an audience Inditex brands are capturing. Brands such as Pull & Bear and Bershka have been working with Spanish-speaking celebrities and influencers, from @rosalia.vt (11.7 million followers) to @ester_exposito (23.8 million followers!), and a number of others.
One of the biggest Inditex influencers is Paula Echevarria (@pau_eche), who is constantly uploading pictures of her outfits in different locations. Whether at home, in a garden, a beach, a pool… she really gets around town. With all of her outfits, there is almost always at least one Inditex brand's piece. From Bershka and Pull & Bear, to Stradivarius and Zara, she wears them all. And with her legion of 3 million followers, it's no surprise that these brands are finding shiny diamonds of success through influencers like her.
Ok, so Inditex brands are big in Spain, we get it, but what about elsewhere? Well, we come back to that fashion giant – Zara. Zara has been a huge hit in the UK even during the COVID-19 pandemic. According to Primetag's leaderboard which takes into account, Instagram mentions by UK influencers from the beginning of this year until now, the brand has been mentioned a huge 1256 times. The brand is particularly popular with UK reality TV stars, like this girl who was on the famous show – Love Island.
Apparently, gen z like to see half-naked 20-something-year-olds try and find love on a beach somewhere in Spain, who knew. It's an odd show, but it periodically churns out some of the biggest influencers in the UK.
Transparency
Finally, let's talk about transparency. All of the Instagram posts aside, Inditex and its brand are staying afloat in this chaotic time by maintaining goodwill and expressing that they share the same concerns as customers. By illustrating that they understand customer's struggles and demonstrating that they are working on the challenges proposed by the virus, Inditex is taking a clear and firm approach to the pandemic.
Amancio Ortega, the founder of Inditex, has been transparent about the company's actions during the pandemic. He has announced that the conglomerate will be delivering 300,000 masks per week and will be involved in the production of health-protective equipment to help the first-line workers such as medical workers but also cashiers and police officers, who are still working outside, to help us all be safe inside.
So What's the Bottom Line?
Well, the future of the retail and the fashion industry is still uncertain. Will the marketing actions be sufficient? And grab a bigger share of the industry? Are retailers going to start a massive discount program on their website when people begin to buy less? Well, we don't know. But what we do know is that in this unprecedented time influencer marketing is crucial now more than ever if companies want to stay afloat.
Inditex is a prime example of a company that is taking full advantage of this situation to not only step up their online marketing efforts but also cater to new customer's needs as they go. Listening carefully to where the market is headed and what steps for success need to be taken.
Inditex and its brands are proving that although their company has made the first losses ever in their history, they are determined to bounce back. And online marketing and e-commerce are how they are going to do it.
We'll be keeping track of Inditex and its brands over the next months, to see what their next big marketing campaign is and what more we can learn from their successes, will you?