Influence Marketing has evolved since the start and the strategies are becoming more diverse!
7 Influencer Marketing Trends in 2021:
Diversity
No-edit edit
Brand Fun Moments
Data will play a key role in decision making
Tik Tok and Reels Raise
Gamers and Streamers
Long-term Partnerships
Diversity
People tend to look for who most resembles them; therefore, the scenario will be increasingly diverse, whether racial, gender, sexual orientation, etc.
This also comes from the preferences of the new generations, who are more aware of social issues.
Brands that embrace diversity will need to understand social causes and assimilate in their identity, communication and in the working space.
A good example of diversity as part of the brand identity is the Portuguese soft drink brand Sumol.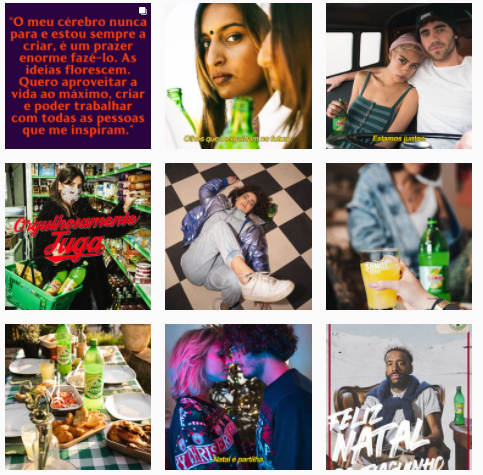 Aimed for millennials the Brand Ads and Social Media promotes diversity with photos of "real people". Sumol combines the colourful design identity with a colourful feed and empowerment messages.

The brand also launched a colourful clothing line that celebrates authenticity and irreverence "of someone who doesn't care what others think and wears colour with pride".
No-Edit Edit
Exaggerated saturation, colours and filters roll all the time on your feed. There is a trend for a more natural aesthetic rather than over-edited landscapes or portraits.
Brands and Influencers will seek a more natural approach:
Product with its true colours (over-editing can be a bit different of reality)
More authentic message
More relatable with the audience (real life is not a Vogue production)
Brand Fun Moments
Hashtag challenges promote creative interpretation. People like to self-express and it is a fun way to promote brand love or brand awareness.
Music selection is the key to a successful challenge on Tik Tok virality. The music dictates the timing of each step/mood in every second.
Influencers are essential to a successful brand hashtag campaign and to inspire others to join.
Pepsi teamed up with the pop band Now United to promote the #PepsiCanBalance challenge.
The hashtag had 11. M views worldwide and counting with multiple participations!

Data-Driven Choices and Reports
In today's overcrowded digital advertising panorama, businesses also focus on communicating through people.
Influencers have an audience but many brands are not analyzing the ROI – Return of Influence.
There are many problems that brands face.
Not choosing the right profiles
Not measuring the campaign or using the time to do reports (asking for print-screens is too old-fashioned)
Not analysing competitors performance
Not having a campaign management tool (too many e-mails and DM´s)
Influencer Marketing ROI can overcome a normal ads campaign.
However, there is a need for an influencer marketing strategy in addition to the marketing funnel.
2 tools Brands are using to make better decisions in their Influencer Marketing Strategy.
Audience Overlap
You may are paying twice to reach your Target. Working with multiple Influencers doesn't necessarily lead to higher Reach.
Imagine this scenario! You choose 3 Influencers to reach more people, but you don't know the percentage of common followers.
With Audience Overlap decisions can be done more strategic for better content promotion. By calculating the percentage of common followers, Brands can deliver better and increase awareness through different audiences.
The tool is brand new (your competitors may not know about it) and can be very handy in the 2021 Influencer Marketing Strategy for your Brand. Know More!
Campaign Management and Data Reports
Many influence marketing campaigns do not have a unique place to manage and report campaigns
A lot of times the messages are crossed between E-Mail and DM's. And often DM's are not seen.
But the real problem starts with the lack of real-time Data and Reports!
Imagine the long-lasting process of asking screenshot of every result (that can be faked!)
Campaign Management automatically tracks posted content, provides goal-oriented reports and allows you to export and share campaign data.
Tik Tok and Reels Raise
Tik Tok and Reels benefited its raise with the pandemic and with people passing more time at home.
This form of expression is getting more popular and with more diverse content. Now it's not only about dances and funny videos.
Many people in many fields (also doctors or priests) are using Tik Tok or Reels to inform people.
Gamers and Streamers
The global gaming market was valued at USD 151.55 billion (2019) and may reach the value of USD 256.97 billion (2025).
You already heard about League of Legends, Counter-Strike or the famous Fortnite.
Fun fact: Travis Scott won 16.5 million euros in a single event at "Fortnite". One-third of what he earned in 56 concerts.
Gaming and Streamers are huge these days because the industry is also growing and there is an audience that doesn´t watch television.
Millennials and Generation Z prefer a more one-to-one communication on Twitch or Youtube where streamers create true communities, with the help of voice chat platforms like Discord.
Brands are aware of this market for there Influencer Marketing Strategies in 2021 and are going to use more gamers/streamers to promote their products.
Long-Lasting Partnerships
A long term commitment to Influencers starts on the first message. You know what they say about first impressions, right?
The first impressions you give to others can Influence how people (and Brands) are treated and viewed.
Personalise your approach and be relevant to the content creator needs.
After that first step, collaborating with Influencers is like a marriage. Without commitment, there is no trust and the audience will not feel the authenticity in the content.
Regular content is needed to engage the audience with your brand and feel the benefits and real use of the product.
Remember people forget what they ate yesterday! Consistency is the key to success in Influencer Marketing strategies in 2021.