The Automation of Influencer Marketing Campaign Reports will make you focus on the tasks that are more important!
What is the purpose of having successful Campaigns if you take hours to do or get your Influencer Marketing Reporting?
This is our starting point on how to optimize your Influencer Marketing Campaigns in order to achieve the greatest results. Whether choosing the right goals as well as the proper audience, there are a number of factors to take into account when planning an Influencer Marketing Strategy.
However, it's not enough to get good results if you can't present them easy Influencer Marketing Reports to those who really matter: your Clients, your Boss, your Colleagues or your Peers.
Reporting Manually
Do you still have to report your results manually, asking Influencers for print screens from their social networks and then compiling that information?
This process requires a lot of time as you become dependent on Influencers' schedules. Besides, compiling data can be a very painful task. You have to spend hours and hours aggregating information so that you can interpret the insights.
Do it Automatically and Fast
Why should you waste your precious time exporting manually your Campaign's results if you can do it in an automated way? Technology should make our life easier, right?
This is Primetag's mission: to optimize your Influencer Marketing Processes.
That's the reason why when you create a Campaign, you can automatically export your results into a Report and Measure Influencer Marketing KPIs.
The software is tailored to your needs since has access to data directly from social media platforms. You no longer have to wait for screenshots, the information is all in your hands in a click. Report Influencer Marketing Campaign Results fast and easy!
So what are you waiting for to start reporting easily your Campaign's results?
Two available Influencer Marketing Reporting formats to Measure KPIs
CSV
This is the most advanced way to get insights from your Campaigns.
In a single spreadsheet you can have access to all the metrics tracked during the Campaign for a comprehensive analysis.
The results are automatically updated over time and always available for your access.
PDF
This format can make the biggest difference in your work. Only the most valuable insights are presented, meaning that you don't need to select highlighted data from a CSV Report and compile into a simple presentation.
The PDF Report displays your Campaign's overall performance, Top Influencers, Top contents and the results by channel and content type.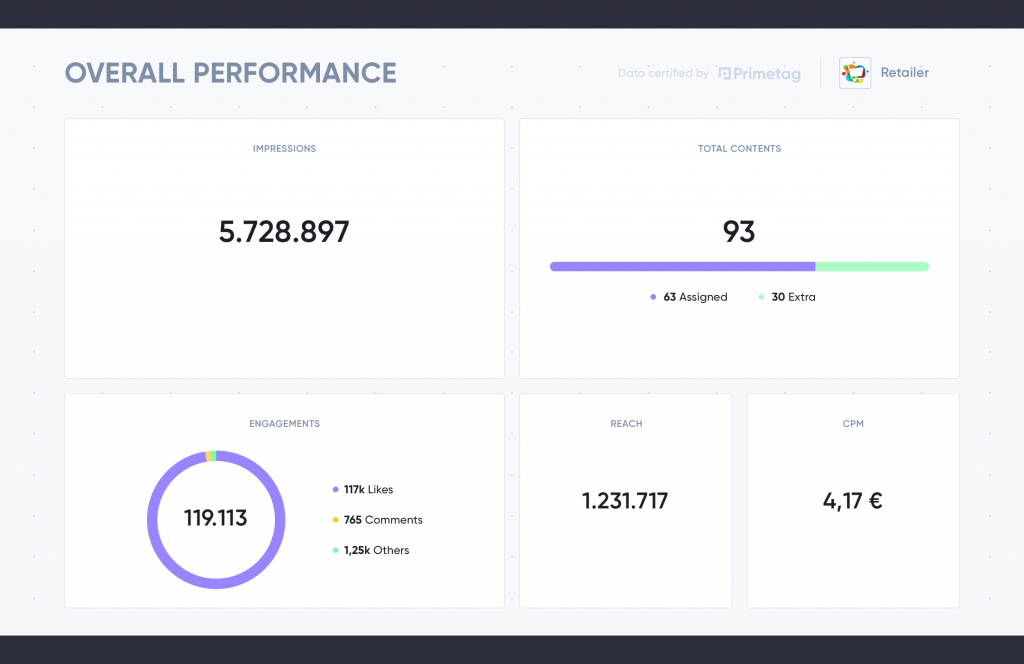 The outcomes are shown in an elegant and professional presentation. For instance, Influencer content is displayed side by side with the metrics tracked during the Campaign, so we are able to say this is a much more visually attractive format.
You can send this presentation directly to your clients, proving your successful work.
I'm 100% sure you must be thinking "Wow, this is amazing". Yet, nothing better than seeing with your own eyes, to believe that it is really possible to easily report your Campaign's results. Click to Book Demo .
Live Influence Marketing Reports
In addition to Exportable Reports, you can keep Track in Real-Time.
Fill out the form below and have access to a full PDF Influence Marketing Reporting: