In today's overcrowded digital advertising panorama, businesses also focus on communicating through people. Influencers have an audience and despite the potential many brands just can't get the ROI – Return of Influence because they are using the wrong Influencer Marketing Tools.
There are many problems that brands face without Influencer Marketing Professional Tools.
Not choosing the Right Profiles
Not Measuring the Campaign or doing manual reports (asking for screenshots is too old-fashioned)
Not analysing competitors performance
Not having a Campaign Management Tool (too many emails and Dm's)
Influencer Marketing ROI can overcome an ads campaign.
However, there is a need for an influencer marketing strategy in addition to the marketing funnel.
Using influencers to only drive awareness is like calling Cristiano Ronaldo to sign autographs in your shop and no one bought any product. So the idea is to use the influencers' ability to cause behaviour.
Here are 5 professional tools to help create and manage a better influencer marketing campaign!
Content Explorer
Looking for Influencers manually can be a long-lasting effort. And using sites to search or platforms based on Followers or Engagement search can be dodgy!
Fake Engagement (Bots or Combined Comments in Whatsapp or Telegram groups)
Fake Followers or Followers that did not become an Audience
Profiles with likes but with empty post descriptions – no personality, no opinions and not truly caring about creating a connection with followers and brands.
So how can this be overcome? Imagine a "Google" for Influencer Marketing!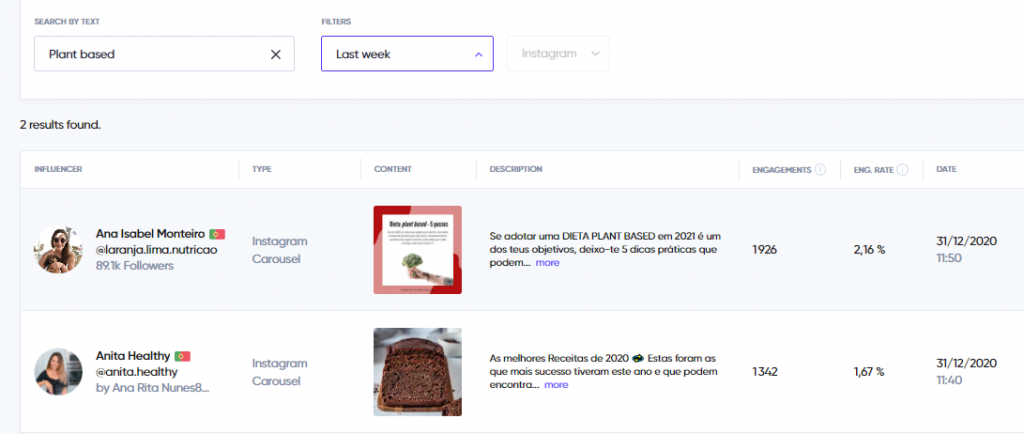 Context Explorer is a search engine for Influencer content. If you are looking for Influencers that are very specific like "lady gaga" fans, this is the tool for you.
Find inspiration for your briefings, discover new Talent and uncover your Competitor's Ambassadors in seconds.
Filter your results based on a timeframe, keywords, mentions and hashtags.
Click now to try Content Explorer for Free.
Audience Overlap
Did you know you may are paying twice to reach your Target? Working with multiple Influencers doesn't necessarily lead to higher Reach.
Imagine this scenario! You choose 3 Influencers to reach more people, but you don't know the percentage of common followers.
With Audience Overlap, you can select the best combination of Influencers to achieve your goals.
The tool is brand new (your competitors may not know about it) and can be very handy in the 2021 Influencer Marketing Strategy!
Campaign Management
Many influence marketing campaigns do not have a unique place to manage and report campaigns.
A lot of times the messages are crossed between E-Mail and DM's. And often DM's are not seen.
But the real problem starts with the lack of real-time data and reports!
Imagine the long-lasting process for the print-screens result (that can be faked).
Campaign Management is an Influencer Marketing Professional Tool that automatically tracks published content, provides goal-oriented reports and allows you to export and share campaign data.
Free up your staff by automating hours of mindless work.
Share Of Voice
If you work Online you may have some James Bond secret agent tricks of your own to (legally) check on competitors.
But what about your brand and competitors use of Influence marketing?
With Share Of Voice, Benchmark your Influencer Marketing Performance
With this tool, you can evaluate your Brand and Competitors activity based upon the Influencer content published on Instagram.
P.S Spy Secret: And you can monitor your competitors over time. Find competitors communication schedules and understand if your campaigns are being deployed at the right moment.
Discover TikTokers and Influencers
Quite driven by the covid-19 pandemic and the consequent confinement, TikTok has become a global phenomenon with more than two million downloads in just 4 years, a record that Facebook took 13 years to achieve.
Brands are still figuring how to work in the platform or even to search TikTokers.
On the Discover Platform, Brands can Discover Influencers for Free from Instagram & TikTok.

Search with Smart Filters and Find the Right Match for your Brand.