Does the value of professional athletes go beyond their athletic talent? FC Barcelona sees Neymar Jr as a strategic signing.
In today's digital era, people in the spotlight are involved in much more than just one outlet for exposure and success. For example, professional athletes are no longer known solely for their athletic talent. Athletes are becoming immensely valuable to teams, brands, and agencies due to the rapid rise of social media. Athletes, such as Neymar Jr, are now social media influencers and have created a massive following on their platforms.
On July 1, 2019, MARCA, Spanish national daily sports newspaper, released an article about Neymar's potential signing with Barça with social media data collected by Primetag.
When asked about Neymar's dual-value to a team through social media and athleticism, CEO and Co-Founder Manuel Albuquerque said:
Neymar's profile on instagram would be an amplifier for the Barça brand, allowing it to reach millions of people globally. Surpassing the national territory, through the player's networks, the club manages to convey its own messages and boost its business.

Manuel Albuquerque, Primetag CEO and Co-Founder
The Brazilian has brand deals and media advertising with over 30 companies, Nike being the most prevalent across his Instagram account. Neymar has 121 million followers and over six million people engaging with his posts. This makes him even more valuable in the influencing and athletic world because he has a variety of audiences and a large outlet for visibility. Bottom line, the Brazilian adds more than just his magical athletic skills. He takes the Barcelona brand to another level, making his signing a strategic move.
Albuquerque gave more input on this [supposedly] 'strategic signing'. He explained, "With the potential trade of Neymar, Barça would expect not only sports value but a return from the media and economic point of view: T-shirt sales, tickets for matches, transmission rights, and sponsors' fees. These are some of the sources of income that are affected when a popular athlete is hired, and social phenomena like him are used to catapult online sales."
His power goes beyond his offensive performance. Neymar Jr. is a strategic signing. Other brands and professional teams should take notes from Barça and Neymar's potential deal if they want to stay competitive in an ever-evolving social media world. The power behind Influencer Marketing continues to grow with great success and continuous transformation.

MARCA sport newspaper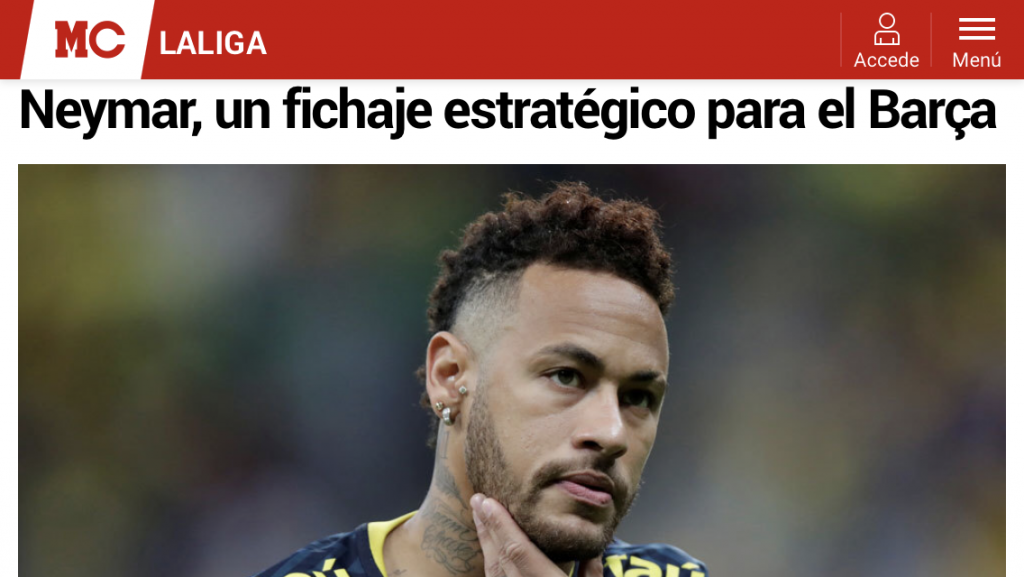 If you're interested in knowing more about the importance of social media in professional's athletes career, you can download Primetag's 2018 World Cup Social Influence Report. You can also read Forbes take on the subject.